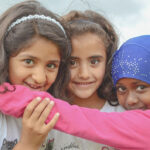 Restoring families, rebuilding communities
July 10, 2023
Patient and logical discussions lead Sarah to Christ
July 10, 2023
Prior to the COVID-19 pandemic, epidemiological studies showed that up to 18% of the MENA region suffered from depression. That's almost 106 million people. The studies noted that rates of depression in women were almost double than in men. Post pandemic, some parts of the MENA showed an increase to 48% depression.
"My name is Ragaa and I am 21 year's old. I was desperate, scared and weary of living. I was taken aback by the kindness and ease with which the Miracle Connect team spoke to me.
They provided numerous useful and important tips, suggestions, and practical strategies to deal with depression.
They talked to me about Jesus and explained his life and ministry to me step by step, and the concept of Christian faith. I was thrilled to have this type of communication, which resembled a dialogue of questions, responses, and comments.
Finally the counselor asked if I would accept the opportunity for salvation, as well as God's mercy and love, and become a follower of Jesus. I accepted Jesus and invited him into my heart without hesitation.
I've now joined the discipleship program in order to deepen my love for Jesus Christ and progress in my Christian faith."
Ragaa is one of potentially 70 million women in the MENA who suffer from depression. The Miracle Connect team helped Ragaa express her troubles, see her value through God's eyes and realize that she is unconditionally loved and always supported and protected by her Creator. By supporting the millions of women struggling with their mental health, we are preparing and spiritually equipping them for their influential role as parents of the next generation of Middle Easterners.
Would you like to help bring more people like Ragaa to Christ through Miracle Connect?
Please consider a small donation.